L'Inganno.2017.iTA-ENG.Bluray.1080p.x264-CYBER.mkv
Category

Movies

Type

HD

Language

English

Total size

8.2 GB

Uploaded By eXpOrTeRICV
Downloads

466

Last checked

2 days ago

Date uploaded

3 months ago

Seeders

5

Leechers

1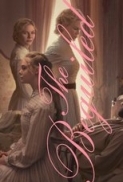 During the Civil War, at a Southern girls' boarding school, young women take in an injured enemy soldier. As they provide refuge and tend to his wounds, the house is taken over with sexual tension and dangerous rivalries, and taboos are broken in an unexpected turn of events.
Infohash : B4CE71A92777E2517D97CA46BE07058F64B316E7


[size=24pt]L'Inganno [/size]




DATA USCITA: 21 settembre 2017
GENERE: Drammatico, Thriller
ANNO: 2017
REGIA: Sofia Coppola
ATTORI: Elle Fanning, Kirsten Dunst, Nicole Kidman, Colin Farrell, Angourie Rice, Wayne Pére, Oona Laurence, Emma Howard, Eric Ian
PAESE: USA
DURATA: 94 Min
DISTRIBUZIONE: Universal Pictures
Note: Remake del film La notte brava del soldato Jonathan del 1971 diretto da Don Siegel e che schierava Clint Eastwood nel ruolo del soldato unionista.




Un soldato unionista mezzo morto viene aiutato e curato dalle ragazze di una scuola femminile della Confederazione. La presenza del maschio attiverà giochi pericolisi e rivalità interne al gruppo.




[ Info sul file ]

Nome: L'Inganno.2017.iTA-ENG.Bluray.1080p.x264-CYBER.mkv
data: Fri, 05 Jan 2018 14:47:35 +0100
Dimensione: 8,816,823,267 bytes (8408.377902 MiB)

[ Magic ]

Tipo file: data

[ Info generiche ]

Durata: 01:33:33 (5612.64 s)
Contenitore: matroska
Production date: Fri, 05 Jan 2018 14:45:35 +0100
Totale tracce: 7
Traccia n. 1: video (V_MPEG4/ISO/AVC) {eng}
Traccia n. 2: audio (A_DTS) {ita}
Traccia n. 3: audio (A_AC3) {ita}
Traccia n. 4: audio (A_DTS) {eng}
Traccia n. 5: subtitle (S_TEXT/UTF8) [FORCED] {ita}
Traccia n. 6: subtitle (S_TEXT/UTF8) [REGOLARI] {ita}
Traccia n. 7: subtitle (S_TEXT/UTF8) [NON UDENTI] {eng}
Muxing library: libebml v1.3.5 + libmatroska v1.4.5
Writing application: mkvmerge v15.0.0 ('Duel with the Devil') 64-bit

[ Dati rilevanti ]

Risoluzione: 1792 x 1080
Larghezza: multipla di 32
Altezza: multipla di 8
DRF medio: 14.822857
Deviazione standard: 4.015954
Media pesata dev. std.: 3.97239

[ x264 log ]

frame I: 1431 ( 1.063 %)
frame B: 88677 ( 65.898 %) #############
frame P: 44459 ( 33.039 %) #######
frame I avg QP: 12.9
frame B avg QP: 16.3
frame P avg QP: 14.88
Avg QP: 15.794696

[ Traccia video ]

Codec ID: V_MPEG4/ISO/AVC
Risoluzione: 1792 x 1080
Frame aspect ratio: 224:135 = 1.659259
Pixel aspect ratio: 1:1 = 1
Display aspect ratio: 224:135 = 1.659259
Framerate: 23.976024 fps
Dimensione stream: 6,767,634,345 bytes (6454.119058 MiB)
Durata: 01:33:33 (5612.565247 s)
Bitrate (bs): 9646.404519 kbps
Qf: 0.207887

[ Traccia audio nr. 1 ]

Codec ID: A_DTS
Freq. campionamento: 48000 Hz
Canali: 6
Dimensione campioni: 24-bit
Dimensione stream: 538,810,368 bytes (513.849609 MiB)
Tipo di bitstream (bs): DTS
Frames (bs): 526,182
Durata: 01:33:33 (5612.608 s)
Chunk-aligned (bs): Sì
Bitrate (bs): 768 kbps CBR
Freq. campionamento (bs): 48000 Hz
Modo (bs): C + L + R+ SL+SR

[ Traccia audio nr. 2 ]

Codec ID: A_AC3
Freq. campionamento: 48000 Hz
Canali: 6
Dimensione stream: 449,011,200 bytes (428.210449 MiB)
Tipo di bitstream (bs): AC3
Frames (bs): 175,395
Durata: 01:33:33 (5612.64 s)
Chunk-aligned (bs): Sì
Bitrate (bs): 640 kbps CBR
Freq. campionamento (bs): 48000 Hz
Modo (bs): 3 front, 2 rear, 1 LFE

[ Traccia audio nr. 3 ]

Codec ID: A_DTS
Freq. campionamento: 48000 Hz
Canali: 6
Dimensione campioni: 24-bit
Dimensione stream: 1,058,678,272 bytes (1009.634277 MiB)
Tipo di bitstream (bs): DTS
Frames (bs): 526,182
Durata: 01:33:33 (5612.608 s)
Chunk-aligned (bs): Sì
Bitrate (bs): 1536 kbps CBR
Freq. campionamento (bs): 48000 Hz
Modo (bs): C + L + R+ SL+SR
Final skip (bs): 88 bytes

[ Bitstream video ]

Tipo di bitstream: MPEG-4 Part 10
User data: x264 | core 152 r2851 ba24899 | H.264/MPEG-4 AVC codec | Copyleft
User data: 2003-2017 | * | C | Y | B | E | R | * | R | O | C | K | S | * | |
User data: options: | cabac=1 | ref=4 | deblock=1:-2:-2 | analyse=0x3:0x133
User data: me=hex | subme=7 | psy=1 | psy_rd=1.00:0.00 | mixed_ref=1
User data: me_range=16 | chroma_me=1 | trellis=1 | 8x8dct=1 | cqm=0
User data: deadzone=21,11 | fast_pskip=1 | chroma_qp_offset=-2 | threads=12
User data: lookahead_threads=2 | sliced_threads=0 | nr=0 | decimate=1
User data: interlaced=0 | bluray_compat=0 | constrained_intra=0 | bframes=3
User data: b_pyramid=2 | b_adapt=1 | b_bias=0 | direct=1 | weightb=1
User data: open_gop=0 | weightp=2 | keyint=240 | keyint_min=23 | scenecut=40
User data: intra_refresh=0 | rc_lookahead=50 | rc=2pass | mbtree=1
User data: bitrate=9650 | ratetol=1.0 | qcomp=0.60 | qpmin=0 | qpmax=69
User data: qpstep=4 | cplxblur=20.0 | qblur=0.5 | vbv_maxrate=50000
User data: vbv_bufsize=62500 | nal_hrd=none | filler=0 | ip_ratio=1.40
User data: aq=1:1.00
SPS id: 0
Profile: [email protected]
Num ref frames: 4
Aspect ratio: Square pixels
Chroma format: YUV 4:2:0
PPS id: 0 (SPS: 0)
Tipo di codifica entropica: CABAC
Weighted prediction: P slices - explicit weighted prediction
Weighted bipred idc: B slices - implicit weighted prediction
8x8dct: Sì
Totale frames: 134,567
Drop/delay frames: 0
Frames corrotti: 0

P-slices: 44459 ( 33.039 %) #######
B-slices: 88677 ( 65.898 %) #############
I-slices: 1431 ( 1.063 %)
SP-slices: 0 ( 0.000 %)
SI-slices: 0 ( 0.000 %)

[ Analisi DRF ]

DRF nedio: 14.838445
deviazione standard: 4.029128
max DRF: 29

DRF=1: 412 ( 0.306 %)
DRF=2: 846 ( 0.629 %)
DRF=3: 640 ( 0.476 %)
DRF=4: 927 ( 0.689 %)
DRF=5: 2045 ( 1.520 %)
DRF=6: 1744 ( 1.296 %)
DRF=7: 1250 ( 0.929 %)
DRF=8: 720 ( 0.535 %)
DRF=9: 748 ( 0.556 %)
DRF=10: 1156 ( 0.859 %)
DRF=11: 2584 ( 1.920 %)
DRF=12: 7968 ( 5.921 %) #
DRF=13: 17471 ( 12.983 %) ###
DRF=14: 20977 ( 15.589 %) ###
DRF=15: 21197 ( 15.752 %) ###
DRF=16: 15297 ( 11.368 %) ##
DRF=17: 10316 ( 7.666 %) ##
DRF=18: 9530 ( 7.082 %) #
DRF=19: 5404 ( 4.016 %) #
DRF=20: 3791 ( 2.817 %) #
DRF=21: 2413 ( 1.793 %)
DRF=22: 1872 ( 1.391 %)
DRF=23: 1725 ( 1.282 %)
DRF=24: 1205 ( 0.895 %)
DRF=25: 1294 ( 0.962 %)
DRF=26: 185 ( 0.137 %)
DRF=27: 153 ( 0.114 %)
DRF=28: 27 ( 0.020 %)
DRF=29: 3 ( 0.002 %)
DRF>29: 0 ( 0.000 %)

P-slices DRF medio: 14.171754
P-slices deviazione std.: 3.747437
P-slices max DRF: 28

B-slices DRF medio: 15.21346
B-slices deviazione std.: 4.116289
B-slices max DRF: 29

I-slices DRF medio: 12.312369
I-slices deviazione std.: 3.375144
I-slices max DRF: 23

[ Analisi DRF (corretta) ]

Fine titoli di testa: 00:00:23 (22.981291 s) - frames ignorati: 551

DRF nedio: 14.822857
deviazione standard: 4.015954
max DRF: 29

DRF=1: 412 ( 0.307 %)
DRF=2: 843 ( 0.629 %)
DRF=3: 638 ( 0.476 %)
DRF=4: 926 ( 0.691 %)
DRF=5: 2039 ( 1.521 %)
DRF=6: 1729 ( 1.290 %)
DRF=7: 1241 ( 0.926 %)
DRF=8: 708 ( 0.528 %)
DRF=9: 747 ( 0.557 %)
DRF=10: 1155 ( 0.862 %)
DRF=11: 2582 ( 1.927 %)
DRF=12: 7957 ( 5.937 %) #
DRF=13: 17463 ( 13.031 %) ###
DRF=14: 20958 ( 15.638 %) ###
DRF=15: 21177 ( 15.802 %) ###
DRF=16: 15275 ( 11.398 %) ##
DRF=17: 10264 ( 7.659 %) ##
DRF=18: 9465 ( 7.063 %) #
DRF=19: 5373 ( 4.009 %) #
DRF=20: 3754 ( 2.801 %) #
DRF=21: 2377 ( 1.774 %)
DRF=22: 1832 ( 1.367 %)
DRF=23: 1679 ( 1.253 %)
DRF=24: 1122 ( 0.837 %)
DRF=25: 1269 ( 0.947 %)
DRF=26: 184 ( 0.137 %)
DRF=27: 152 ( 0.113 %)
DRF=28: 26 ( 0.019 %)
DRF=29: 3 ( 0.002 %)
DRF>29: 0 ( 0.000 %)

P-slices DRF medio: 14.148338
P-slices deviazione std.: 3.725278
P-slices max DRF: 28

B-slices DRF medio: 15.201411
B-slices deviazione std.: 4.106204
B-slices max DRF: 29

I-slices DRF medio: 12.309741
I-slices deviazione std.: 3.353198
I-slices max DRF: 23

[ Conformità al profilo ]

Profilo selezionato: MTK PAL 6000
Risoluzione: 1792 x 1080 > 720 x 576
Framerate: 23.976024 <> 25
Buffer underflow: 00:00:02 (frame 39)
Buffer underflow: 00:00:02 (frame 45)
Buffer underflow: 00:00:02 (frame 51)
Buffer underflow: 00:00:02 (frame 57)
Buffer underflow: 00:00:03 (frame 64)
Buffer underflow: 00:00:03 (frame 72)
Buffer underflow: 00:00:03 (frame 80)
Buffer underflow: 00:00:04 (frame 88)
Buffer underflow: 00:00:04 (frame 97)
Buffer underflow: 00:00:04 (frame 105)
Buffer underflow: 00:00:05 (frame 113)
Buffer underflow: 00:00:05 (frame 122)
Buffer underflow: 00:00:05 (frame 130)
Buffer underflow: 00:00:06 (frame 140)
Buffer underflow: 00:00:06 (frame 149)
Buffer underflow: 00:00:07 (frame 160)
Buffer underflow: 00:00:07 (frame 169)
Buffer underflow: 00:00:07 (frame 178)
Buffer underflow: 00:00:08 (frame 188)
Buffer underflow: 00:00:08 (frame 196)
Errore: Troppe violazioni

[ File allegato ]

Nome file: F1_T2_Video - .rar
MIME type: application/x-rar
Dimensione: 65,548 bytes
UID: 12115284699929826689

[ Edition entry ]

UID: 14967398555770956180
Nascosto: No
Selezionato di default: No
Playlist: No
Capitoli:
00:00:00,000-00:06:13,665: 00:00:00.000 {eng}
00:06:13,665-00:09:47,462: 00:06:13.665 {eng}
00:09:47,462-00:14:00,006: 00:09:47.462 {eng}
00:14:00,006-00:18:26,272: 00:14:00.006 {eng}
00:18:26,272-00:25:16,223: 00:18:26.272 {eng}
00:25:16,223-00:31:24,674: 00:25:16.223 {eng}
00:31:24,674-00:34:44,749: 00:31:24.674 {eng}
00:34:44,749-00:42:09,485: 00:34:44.749 {eng}
00:42:09,485-00:44:44,974: 00:42:09.485 {eng}
00:44:44,974-00:49:02,189: 00:44:44.974 {eng}
00:49:02,189-00:55:11,391: 00:49:02.189 {eng}
00:55:11,391-01:01:14,796: 00:55:11.391 {eng}
01:01:14,796-01:05:00,980: 01:01:14.796 {eng}
01:05:00,980-01:11:28,868: 01:05:00.980 {eng}
01:11:28,868-01:13:54,513: 01:11:28.868 {eng}
01:13:54,513-01:16:50,689: 01:13:54.513 {eng}
01:16:50,689-01:21:57,496: 01:16:50.689 {eng}
01:21:57,496-01:26:30,310: 01:21:57.496 {eng}
01:26:30,310-01:29:46,756: 01:26:30.310 {eng}
01:29:46,756-01:33:32,640: 01:29:46.756 {eng}




ORARIO: SEMPRE ATTIVO
BANDA: 300KB


Files:
L'Inganno.2017.iTA-ENG.Bluray.1080p.x264-CYBER.mkv (8.2 GB)
Code:
udp://tracker.coppersurfer.tk:6969/announce

udp://tracker.tntvillage.scambioetico.org:2710/announce

udp://tracker.opentrackr.org:1337/announce

udp://tracker.leechers-paradise.org:6969/announce

udp://tracker.zer0day.to:1337/announce

udp://9.rarbg.com:2740/announce

udp://tracker.internetwarriors.net:1337/announce

udp://ipv4.tracker.harry.lu:80/announce

udp://tracker.vanitycore.co:6969/announce

udp://bt.xxx-tracker.com:2710/announce

udp://tracker.kamigami.org:2710/announce

udp://tracker.grepler.com:6969/announce

udp://tracker.filetracker.pl:8089/announce

udp://tracker.tiny-vps.com:6969/announce

udp://zephir.monocul.us:6969/announce

udp://tracker.torrent.eu.org:451/announce

udp://tracker.files.fm:6969/announce

udp://retracker.lanta-net.ru:2710/announce

udp://open.stealth.si:80/announce

udp://inferno.demonoid.ooo:3389/announce

udp://z.crazyhd.com:2710/announce

udp://tracker.christianbro.pw:6969/announce

udp://tracker.halfchub.club:6969/announce

udp://retracker.nts.su:2710/announce

udp://tracker.tvunderground.org.ru:3218/announce

udp://tracker.cyberia.is:6969/announce

udp://thetracker.org:80/announce

udp://tracker.cypherpunks.ru:6969/announce

udp://wambo.club:1337/announce

udp://tracker.acg.gg:2710/announce

udp://tracker.swateam.org.uk:2710/announce

udp://tracker.doko.moe:6969/announce

udp://tracker.dler.org:6969/announce

udp://tracker.pirateparty.gr:6969/announce